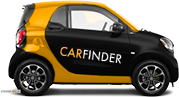 Kiev, Kharkov, Odessa, Lviv
6 - 50 000 $
Expert review and report
Check for arrests
Bargaining
A "Light" tariff rate for experienced car users.
You know what kind of car you are looking for. Keep monitoring cars for sale by yourself and want to choose the best one from several candidates.
A new "Light" tariff rate by CarFinder gives you an opportunity to fill the chat with options to inspect by yourself, with making use of any possible auto selection resources.
30 days to search for your car in 4 Ukrainian cities.
Remote checks against databases, seller analysis, price dynamics and on sale time.
Possible RTI records and calculations of insurance indemnity by insurance companies.

Number of owners

Arrests and restrictions

A reseller? When and at what price did he buy it?

What about mileage?

An American? In what condition was it bought? What are the risks with this kind of damage?
7 links from the client.
Perhaps CarFinder knows this car?
What can I find out without calling an expert?
Databases. CarFinder Bot, which will show whether the car with this VIN was offered for sale before, and with what kind of announced information.
3 expert attendances.
Detailed photo and video report. Team's summary.
It's up to you to decide whether you are interested in this car.
* This tariff plan doesn't include checking for season maintenance.
You know where to take it and how to check it in technical terms.
You know how to register your purchase at a service center.
Everything turned out to be not as simple as it seemed?
7 options, 3 attendances – and nothing to buy?
Keep an advance payment for this tariff rate as the first payment for switching to the complex search.
Unlimited number of remote checks during 60 operational days more.
7 expert attendances.
Payment for the remaining services according to the chosen complex tariff after the purchase.