Tariff plan:
One-time complex

(199 $)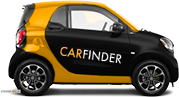 50%

prepayment

50%

after the purchase
1 view
Kiev, Kharkov, Odessa, Lviv
up to 20,000$
Expert review and report
Checking the service STATION
Check for arrests
Bargaining
Paperwork
Payment according to the tariff plan "One-time complex" is charged only if you purchase a car. If after the initial departure and the report of the expert the car is rejected, only the cost of the prepayment is withheld.
For cars worth over $ 20 thousand, the fare is $ 299
Loyalty is about us!
If you are unlucky, have not passed the car check, the cost of the prepayment for the tariff plan can be transferred to a comprehensive selection. In this case, the client will not lose money and the CarFinder team will continue to search and check, writing off only 1 exit from the selected tariff plan.