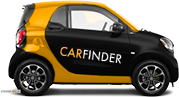 30%

prepayment

15

exits

70%

after the purchase
All cities of CarFinder
up to 100,000$ +
Selection
Expert review and report
Checking the service STATION
Check for arrests
Bargaining
Paperwork
This tariff plan does not provide for a fixed fee for CarFinder services.
We will guarantee that we will work out, and the cost of services is calculated at the rate of 30% of the amount saved by the auction from the initial stated price of the seller.
Personal manager.
The ability to choose the state number of the car is paid separately.