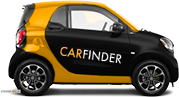 50%

prepayment

15

exits

50%

after the purchase
All Ukraine
80,000 $ +
Selection
Expert review and report
Checking the service STATION
Check for arrests
Bargaining
Paperwork
CarFinder BLACK Privilege Package:
– Personal manager.
– Departure of an expert in any region of car sales. 15 departures.
– Choice of information delivery channel (messenger, Skype, mail, phone)
– Extended team time.
– Transfer to city shopping from the airport or train station.
– Ability to choose a vehicle license plate number.